In line with our mission "Money Forward. Move your life forward,"
we provide services that resolve financial issues for all individuals and corporations.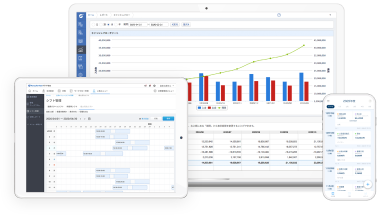 SaaS Applications for Back Office Operations
Money Forward Cloud is a SaaS (Software-as-a-Service) for businesses which automates and streamlines accounting and human resource operations.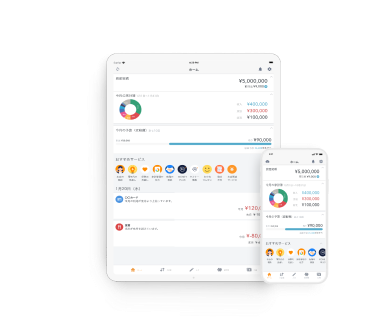 Personal Financial Management Services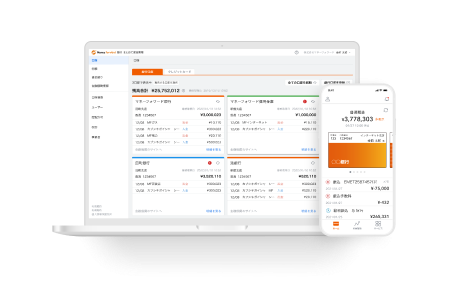 Platform to deliver the valuable services to individual and corporate customers with Financial institutes or other our partners by collecting the asset data and transaction data, storing the data and analyzing the data to explore the customer insights.
Services for individual customers in Fintech Platform.
Mobile application for regional banks, allowing the customer to use the bank's various services online.

PFM for Partner

White labeling application of Money Forward ME for Financial Institute Clients to provide PFM and asset management services.

Digital Passbook

Digital passbook with simple look & feel for regional bank's customers.

MF Unit

Web application for specific functions of PFM and asset management that can be embedded into the finacial instituion's own application.
Services for corporate customers in Fintech Platform.
Treasury management application for bank's corporate customers enabling multiple banking accounts aggregation and cashflow management.

Centralized invoice management service that makes it easy to convert invoices into data.

DX support portal by financial institutions that supports digitalization of SMEs with simple functions and UI.

Online system for loan applications, improving the operational efficiency of both the applicant and the financial institution.

Corporate Portal

Private internet banking portal for corporate and sole proprietorship provided by collabolative work with NTT Data.
Infrastructure services in Fintech Platform.
XBA

Account aggregation infrastructure for multiple bank accounts.

XCS

AWS base database to store aggregated data with lower cost without volume limitation.

X-Insight Marketing

Marketing Analytics Engine for customer profiling and sales marketing actions based on aggregated data.
Consulting services

Consulting services to solve client issues by technology and design knowledge leveraged from our own product development.
MFSD

Consulting service to support Fintech services from research to UI/UX design and applicatoin development.