Basic Policy on Corporate Governance
The Company endeavors to steadily increase shareholder value on a long-term basis, based on the recognition that it is essential for corporate governance to function effectively in order to pursue sustainable enhancement of corporate value in the IT industry, where the operating environment is subject to constant change.
Overview of Corporate Governance Structure
The Company adopts a Board of Corporate Auditors system as well as executive officer system.
The corporate governance structure is outlined in the "Corporate Governance Organizational Chart" below.
(As of February 20, 2020)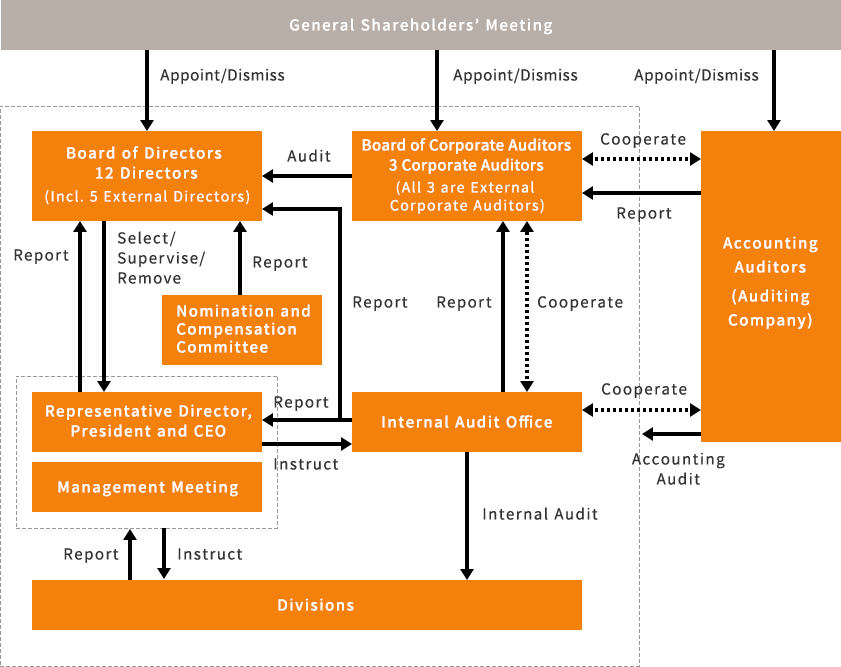 Board of Directors
As of 20th February 2020, the number of Directors is 12, 5 of whom are independent Outside Directors.
In principle, the Board of Directors meetings are held once a month, where the Board of Directors shall make make important management decisions and supervise operational execution.
In order to improve the functionality of the Board of Directors, a new female Director with expertise in corporate governance will be appointed, subject to the approval at the Ordinary General Meeting of Shareholders to be held in February 2020.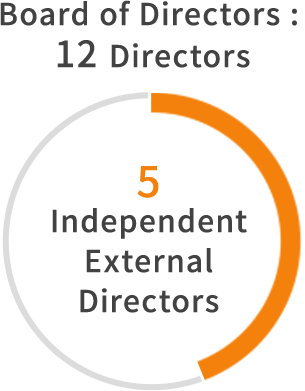 Board of Corporate Auditors
The Company has set up a Board of Corporate Auditors, which is comprised of three corporate auditors (including one full-time corporate auditor), to fulfil the role of auditing overall execution of duties by the directors.
All three corporate auditors are independent external corporate auditors.
The Company also enlists an employee (who concurrently serves other roles in the Company) to support the corporate auditors in conducting audits.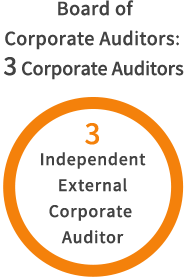 Nomination and Compensation Committee
On June 14, 2019, the Company set up a Nomination and Compensation Committee to serve as an advisory panel to the Board of Directors. The Committee's aim is to raise functional independency, objectivity and accountability of the Board of Directors and thereby reinforce the Group's corporate governance structure through ensuring the transparency and objectivity of evaluations and decision-making processes of directors' nominations and compensation.

The Committee is comprised of the following three members who were selected by resolution of the Board of Directors.
Chair: Yosuke Tsuji, Representative Director and President
Members: Masaaki Tanaka, Independent External Director
     Etsuko Okajima, Independent External Director
Corporate Governance Report
Click below to view the latest Corporate Governance Report.