Sustainability of Money Forward
Aspiring to resolve financial issues for all and create society that drives challenge.
Since our founding, we have embraced our corporate mission, "Money Forward. Move your life forward," and aspired to eliminate financial issues and concerns from the world. Money is merely a tool for living. Yet, many individuals and companies are pressured and affected by it due to lack of adequate knowledge and are unable to take actions. Through our services, we support people to move their lives forward and to drastically enrich everyday life, thus create a society that drives challenges.

Our mission, the ideal society we aspire to create, our business and its prospects are summarized in detail in our integrated report.
Integrated Report(Published in September 2021)
CEO message
CEO's Blog (Japanese)
Three Priority Themes to Achieve our Vision for the Society
To realize our vision for the society and to steadily increase shareholder value, we have set "User Forward," "Society Forward," and "Talent Forward" as our priority themes. We will focus on these as well as the supporting foundations, i.e., "penetration of Money Forward's Mission/Vision/Value/Culture" and "Governance that balances offense and defense."
User Forward

Provide Services that Solve Financial Issues for a Diverse Range of Users (B2B and B2C)
Solve Users' Problems with Technology and Design
Promote Investment in Security to Ensure the Safety

Society Forward

Contribute to DX of Society with Diverse Partners
Promoting Activities to Realize a Better Social System
Practice Environmentally Friendly Management

Talent Forward

Create Diverse Growth Opportunities to Draw out Potential of Employees
Management's Commitment to Member's talent Development
Create an Environment that Accepts Diverse Viewpoints Regardless of Gender, Nationality, Age, and Educational Background
Foundations Supporting Three Priority Themes
Value Creation Process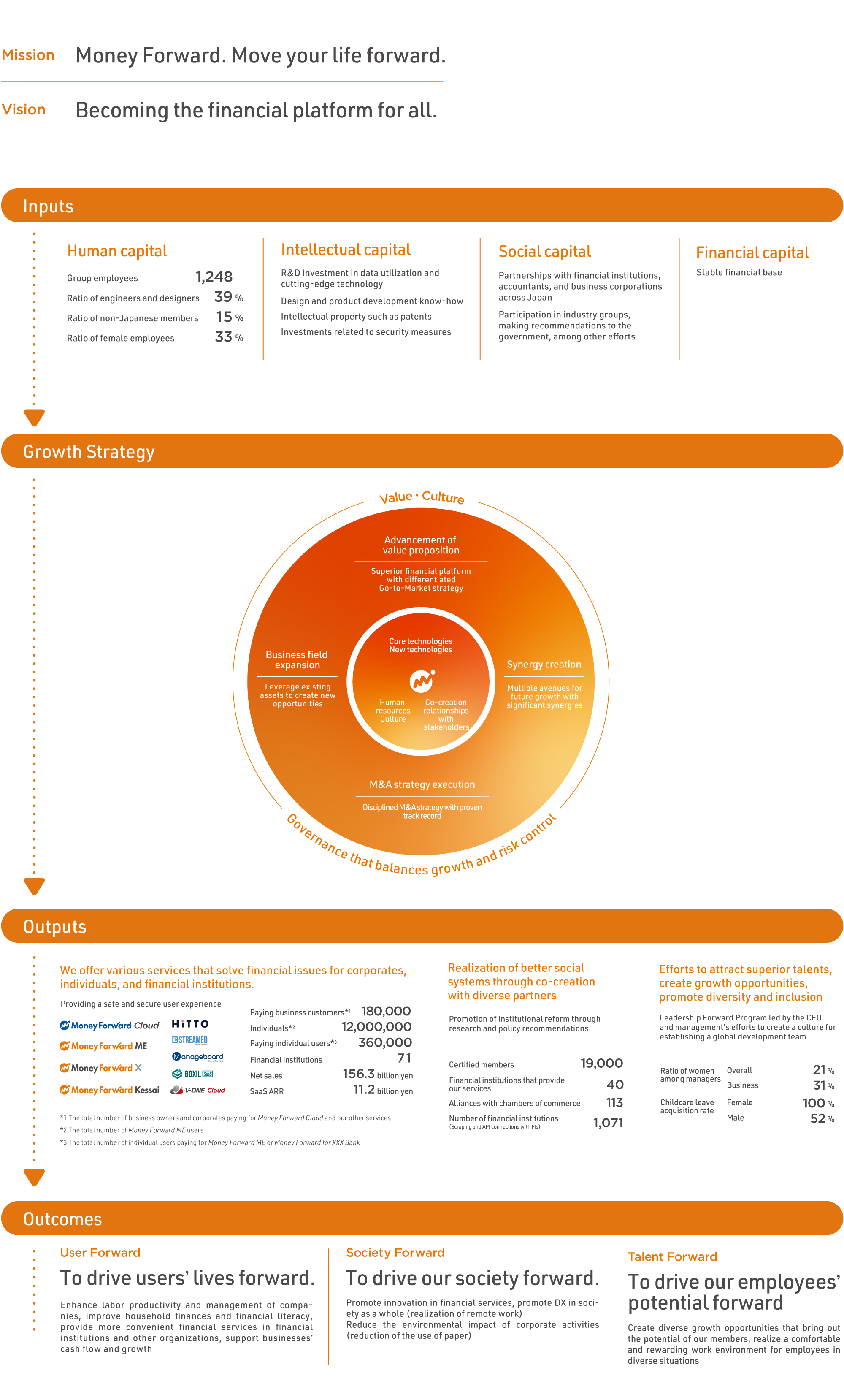 Identification of Priority Themes
We identified our materiality by selecting prospective items referencing major guidelines including the SDG Compass*1 and SASB materials*2, as well as ESG criteria, combining that with interviews with internal and external stakeholders, and holding discussions at Board of Directors Meetings and Management Meetings.
*1

Guidance for companies to align their strategies with the SDGs

*2

SASB=Sustainability Accounting Standards Board
Structure for Promoting Sustainability
We appointed Toshio Taki, who serves as Executive Officer, CoPA (Chief of Public Affairs), and Head of the Money Forward Fintech Institute, as Head of Sustainability. We also launched a project team to promote sustainability, consisting of the Corporate Planning, Administrative, and Public Relations Departments. Matters regarding sustainability are discussed and policies are established at Board of Directors Meetings and Management Meetings.