Sustainability
of Money Forward
Aspiring to resolve money-related issues of all individuals as well as SMEs and to create a society that drives challenge.
Since our founding, we have embraced our corporate mission, "Money Forward. Move your life forward," and aspired to eliminate money-related issues and concerns from the world we live in. Money is merely a tool for living. Yet, many individuals and companies are pressured and affected by money due to lack of proper knowledge on money, and are unable to take on the challenges that they seek. Through our services and businesses, we strive to offer a helping hand to all individuals in moving their lives forward, and to drastically enrich everyday life, thus creating a society that drives challenges.
Initiatives Toward Resolving Social Issues
1. For Corporates
Increasing Corporate Value in the Medium-to Long-Term Through Money Forward Cloud
SMEs, which account for over 99% of all domestic companies in Japan, serve as the pillars of our economy. However, SMEs face numerous issues including the contraction of labor force due to the aging and declining population, shortage of successors, and low labor productivity. Through offering Money Forward Cloud, we seek to help SMEs streamline their back office operations and improve their productivity, thereby contributing to their sustainable growth.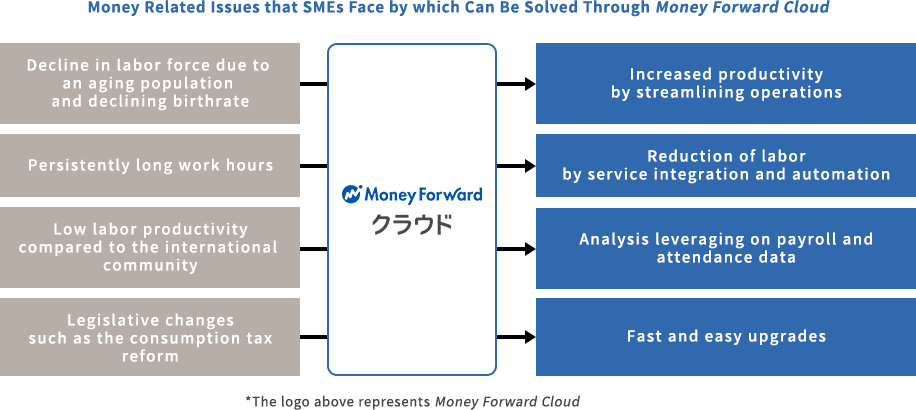 Promoting Cloud Implementation Through Nationwide Partnerships
We have offices in eight cities across Japan, and are expanding partnerships with accounting firms, labor and social security attorney firms, as well as chambers of commerce and industry among others. By reaching out to SME customers of such partners, we aim to further penetrate cloud usage among SMEs across the nation, and to contribute to their productivity enhancement and sustainable growth.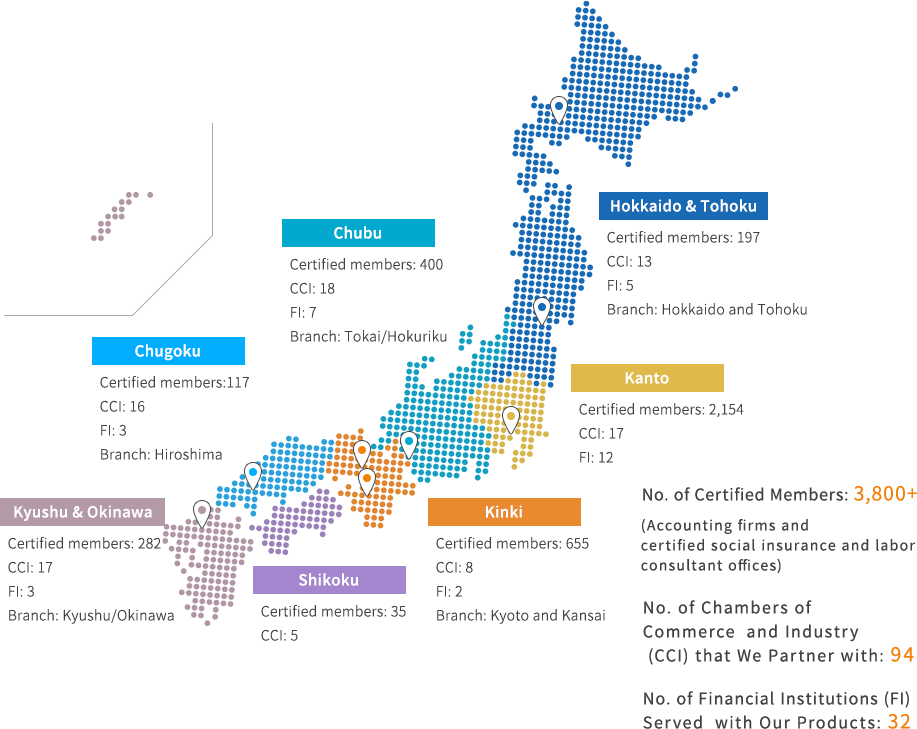 2. For Individuals
Resolving Individuals' Money-Related Issues Through Money Forward ME
While individuals' money-related concerns and issues are directly linked to everyday life, figuring out how to solve them tends to be difficult. Money Forward ME and other services that we offer to individuals visualize their wealth balance as well as their cash flow by aggregating various data, including those of credit cards and banks, and also help improve personal finance or design financial life plans. We continue to develop services of high value while empathizing with individuals' money-related concerns and issues.

Money Forward's Initiatives Toward ESG