Basic Policy on Compliance
The Company believes that compliance is a prerequisite for engaging in corporate activity and appointed the Chief Legal & Compliance Officer (CLCO) as the chief executive for compliance management and has built a compliance structure to implement various initiatives to strictly enforce compliance.
As part of compliance implementation at the Group, the Group is focusing on elimination of antisocial forces and intellectual property rights.
Compliance Structure
The Group has established the "Group Compliance Rules" to set forth the control policy, structure, and code of conduct for compliance, and the CLCO has been appointed by the Company's Board of Directors pursuant to the Rules.
The Group's compliance promotion system is as described below.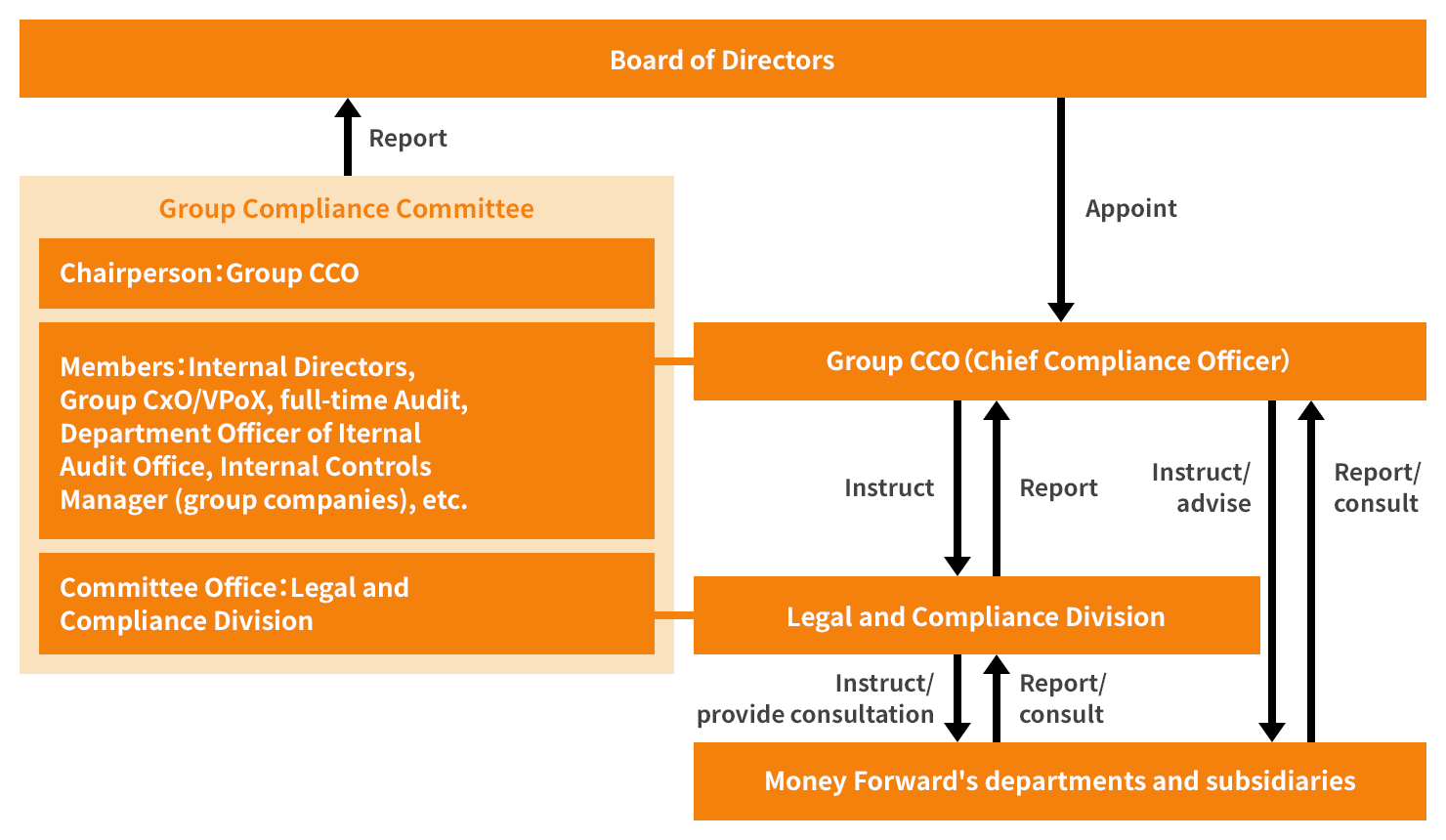 Initiatives for Enforcing Compliance
Money Forward Group Compliance Manual
The Company has established the "Compliance Manual" in June 2015 to provide practical guidelines for enforcing compliance, with the purpose of enforcing compliance and fostering compliance awareness and culture. The scope of application has been expanded to all Group companies from January 2021 with the establishment of the "Money Forward Group Compliance Manual" to set forth basic action principles on compliance that all officers and employees of the Group have to implement, and the Group is striving to ensure strict observation and penetration.
Compliance Training
The Group provides training on general compliance matters and the "Money Forward Group Compliance Manual" at new hire orientation and periodic (annual) training for officers and employees to acquire knowledge and raise awareness on compliance.
In addition, trainings on insider trading, information security, personal data protection and harassment are held as part of the new hire orientation and periodic (annual) training. Various compliance trainings are also held as part of training on matters related to laws, regulations, and internal rules specific to routine business operation.
Internal Reporting Office
The Group aims at early detection and correction of misconducts and has established the "Internal Reporting Rules" clearly stating confidentiality and prohibition of retaliation for the purpose of contribution to compliance management at the Group. An Internal Reporting Office accessible by all officers and employees of the Group has been established. The Internal Reporting System is accessible by all officers and employees of the Group to directly report and consult on compliance breaches at the Company and Group companies, comprising of the internal contact as well as Independent External Auditor and external attorney. It has been notified to all officers and employees of the Group.
The Internal Reporting System is as described below.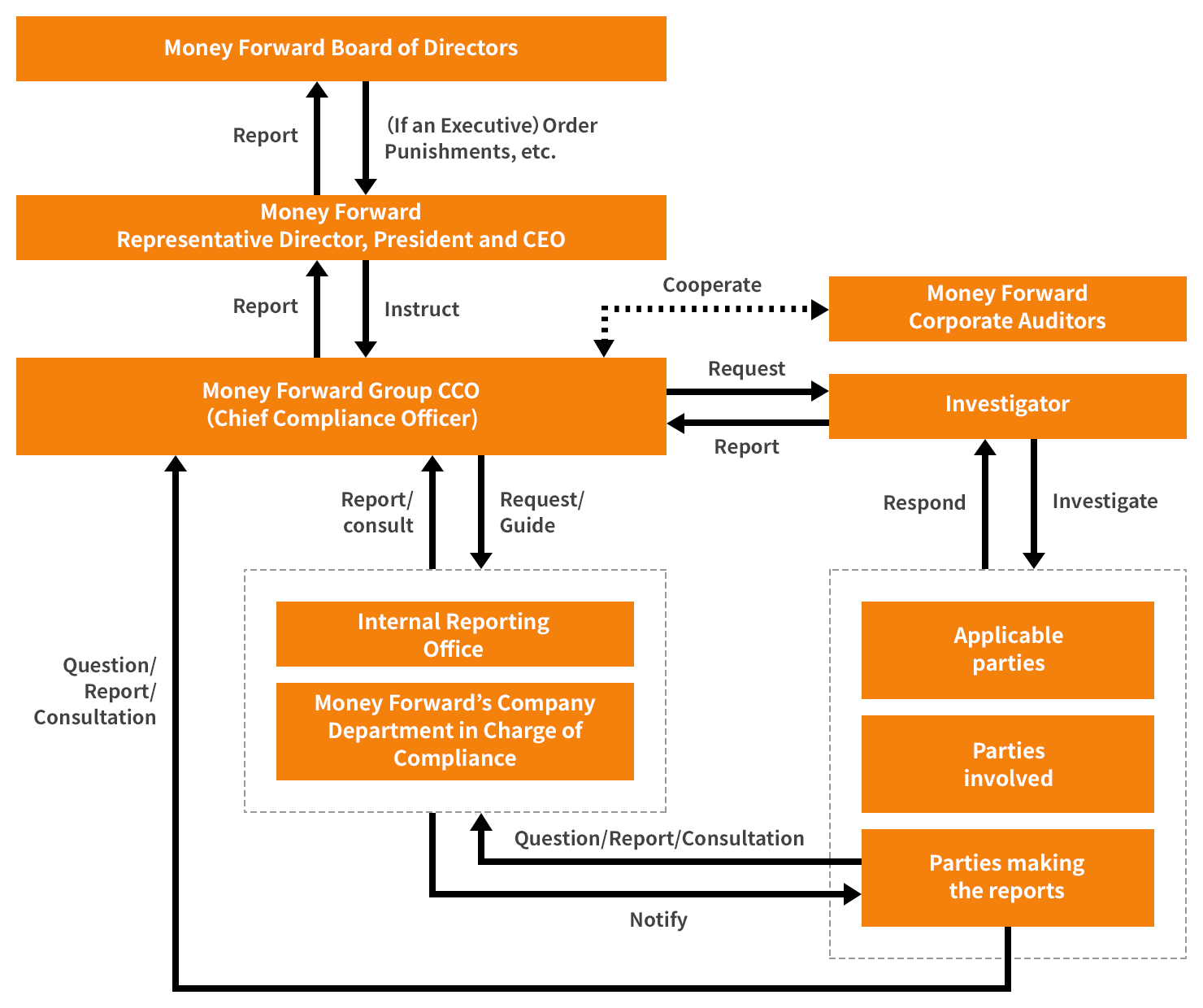 Compliance Meetings
The Company has established the Compliance Meeting in November 2020 as a body for establishing compliance plans for the Group and reporting and discussing on the status of various initiatives for enforcing compliance. In principle, it meets on quarterly basis.
Basic Policy on Eliminating Anti-Social Forces and Progress of Development in Such Policies
Basic Policy on Eliminating Anti-Social Forces
The Group rejects relationships with anti-social forces, and there is no evidence that the Group is currently involved with any anti-social forces.
The "Rules for Responding to Anti-Social Forces" stipulates the prevention of involvement with anti-social forces and of provision of profits in order to deploy fair and sound management and business activities.
In the case where unreasonable demands are made by anti-social forces, the Company as a whole will respond to the situation, and commit to responding resolutely, while cooperating with external professional parties including lawyers, the relevant police station, the Special Violence Prevention Countermeasure Federation (Tokubouren) and the Tokyo Center for Removal of Criminal Organizations.
Progress of Development in Eliminating Anti-Social Forces
The Administration Division which is the division responsible for this area strives to constantly check the latest information on laws and ordinances for eliminating anti-social forces, as well as on policies, guidelines and other rules regarding eliminating anti-social forces. The division also strives to establish a structure for eliminating anti-social forces and make such contents known by officers and employees through attending seminars held by professional parties aiming to eliminate anti-social forces and through collecting information. Also, the Company appoints a person in charge of preventing unreasonable demands and reports to the relevant police station in order to prevent damages from unreasonable demands, etc. from antisocial forces, learn countermeasures, and collect information, among other purposes.
The Group conducts a review on anti-social forces when entering into a new transaction. The Group also conduct periodic reviews on existing business partners, and review cases reported on newspapers, etc., on suspected anti-social forces or transactions with anti-social forces. In addition, with regards to research on anti-social forces concerning shareholders, officers, and employees, the extent of research is determined individually, and research is conducted regularly using the same method.
Furthermore, when entering into an agreement with a client or supplier, agreements include an elimination clause stipulating that transactions and other actions shall be resolved immediately in the case where it is discovered that the counterparty is an anti-social force.
Initiatives Concerning Intellectual Property Rights
Basic Approach
For continuity and development of businesses for the whole Group, the Group promotes intellectual property strategy through concerted efforts by the business, research and development, and intellectual property divisions. Our aim is to realize our Mission, Vision and Values.
The Company shares information and cooperates with the Group companies to cooperate in resolving issues, promoting creation and use of effective intellectual properties and striving to improve the intellectual property activities for the whole Group.
Through such intellectual property related initiatives, the Group will exercise our creativity and strive to provide new values to the stakeholders and resolve social issues.
Respecting the Intellectual Property Rights
The Group respects third party intellectual property rights, while striving to protect and use our intellectual property rights. The Group conduct prior research in accordance with the "Money Forward Group Compliance Manual" to prevent infringement or third-party intellectual property rights when providing new services or starting new research and development.
In addition, the Group acquires intellectual property rights including registration of patents, design and trademark for services provided by the Group to secure technical superiority and improve brand value.
Intellectual Property Education
The Group engages in intellectual property education. The Group actively promotes enhancement and use of intellectual property knowledge by each officer and employee by holding study groups open to all Group officers and employees and workshops focused on specific job category or topic several times a year.